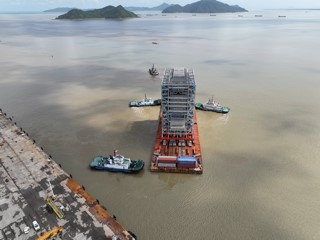 Sarens have been contracted to carry out the transport of prefabricated modules from the COOECFluor
Heavy Industries (CFHI) fabrication yard in Gaolan Port Economic Zone in Zhuhai, China to the
Integrated Waste Management Facility (IWMF) site, Hong Kong Waste Management Facility on an
artificial island near Shek Kwu Chau, South of Lantau Island, Hong Kong.
6 PREFAB 1 Modules (58.086 x 25.254 x 49.721 m) with a weight of 6657 t (NTE) & 6 PREFAB 2 Modules
(34.713 x 25.255 x 40.528 m) with a weight of 2678 t (NTE) will be built at the CFHI Module yard in Zhuhai
The Giant 5 barge will be mobilized for the load out. In total there will be 9 Sea Transports of PREFAB
1 & 2 Modules.
Attending as MWS obo Global Maritime for Load-out, Transportation and Load-in of Prefab Modules in Zhuhai, China and Hong Kong.